Welcome to Masters of Science in Software Engineering (MSE)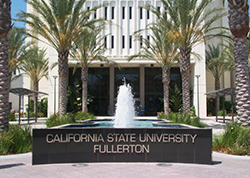 Ranked by US News in the Best Online Graduate Engineering Rankings
Based on factors such as academic reputation among peer institutions, faculty credentials and admissions selectivity. Read More »
Thank you for your interest in the Masters of Science in Software Engineering program at California State University, Fullerton. The program is designed for professionals working in the field of computer science who wish to further their skills and pursue graduate level education in Software Engineering.
* We are also ranked 13th in Best Online Degrees in Software Engineering 2017 by Affordable College Online
The MSE program admits new students in the fall semester only.
Events/Schedule
May 30 (Tuesday) - First day of Summer classes
July 4(Tuesday) - Independence Day Observed - CAMPUS CLOSED
August 4 (Friday) - Last day of Summer classes
August 19 (Saturday) - Midpoint and Orientation Seminar
Admissions Links
To watch Orientation Seminar of Fall 2016 Click here
To watch Midpoint Seminar of Fall 2016 Click here